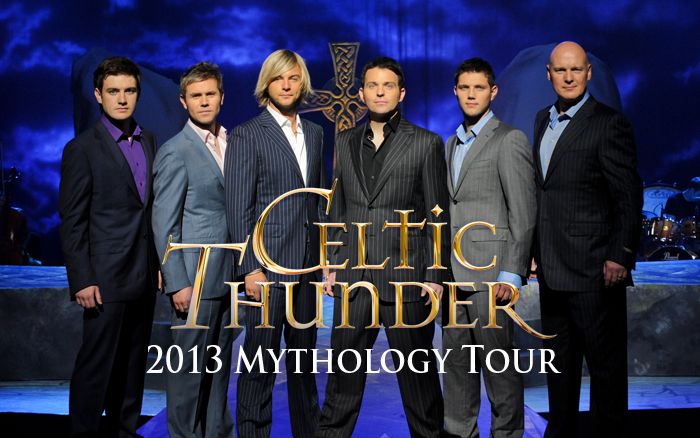 CELTIC THUNDER SOUND CHECK PARTIES - 2013 North American Tour
This year Celtic Thunder is offering the opportunity for fans to experience the excitement of attending the Sound Check for our Mythology Show. Fans can attend the Celtic Thunder sound check on our Canadian & American tour in the afternoon prior to the show at the venue. To clarify, these are NOT the premium ticket offers with a Meet & Greet Interaction with the Performers (available from PBS in America), but are something new and unique and at a different time of the day.

If you have been trying to purchase "Sound Check Party" passes and were redirected to this page, it means that the Sound Check Party for the show you would have liked to attend is sold out and there are no more passes available. .

Sound Check Party Passes include:

- Attend a sound check the same day of the show
*Where Show Start time is 7:30pm, the Sound Check Party will be at 4:00pm
*Where Show Start time is 5:00pm, the Sound Check Party will be at 2:00pm
- An exclusive Celtic Thunder Sound Check booklet, hand signed by all the Celtic Thunder Performers
- Take photos of the cast on stage during the sound check. (Photos during a LIVE Show are not permitted)
Passes to attend the Sound Check are $75 each. Small Children (12 years & under - max of 4) are free once they are accompanied by 1 paying adult. More than four children require an additional paying adult to accompany.

There has to be at least 30 people for each at each 'Sound Check Party' to make it viable to host a Celtic Thunder 'Sound Check Party'.

Numbers are limited to a maximum of 50 people, but we also have to reach a minimum for each date to make it viable.

If for any reason the sound check cannot go ahead in your city, we will inform you of this and refund your payment immediately.

When you purchase your "Sound Check Party" pass here, you will receive a confirmation email from Paypal. Print your receipt from your Paypal Account and present it at the merchandise booth at 4:00 PM Sharp. From here you will be escorted into the sound check by Stephen Mc Cabe and / or Ger O'Shea.

You don't need to bring anything else, just your receipt email from paypal as proof of purchase.
Oct 04, 2013

Wallingford, CT

Oakdale Theater

Oct 05, 2013

Atlantic City, NJ

Caesar's

Oct 08, 2013

Hershey, PA

Hershey Theater

Oct 12, 2013

Wabash, IN

Honeywell Center

Oct 16, 2013

Cleveland, OH

State Theater

Oct 18, 2013

Chicago, IL

Chicago Theater

Oct 20, 2013

Bemidji, MN

Sanford Center

Oct 25, 2013

Lincoln, NE

Lied CFTA

Oct 29, 2013

Knoxville, TN

TN Theater

Nov 08, 2013

WPB, FL

Kravitz Center

Nov 11, 2013

Charlotte, NC

Blumenthal

Nov 16, 2013

Atlanta, GA

Fox Theater

Nov 20, 2013

Houston, TX

Verizon

Nov 24, 2013

Salina, KS

Bicentennial

Nov 26, 2013

Loveland, CO

Bud Events

Nov 30, 2013

Spokane, WA

Northern Quest

Dec 01, 2013

Boise, ID

Morison Center