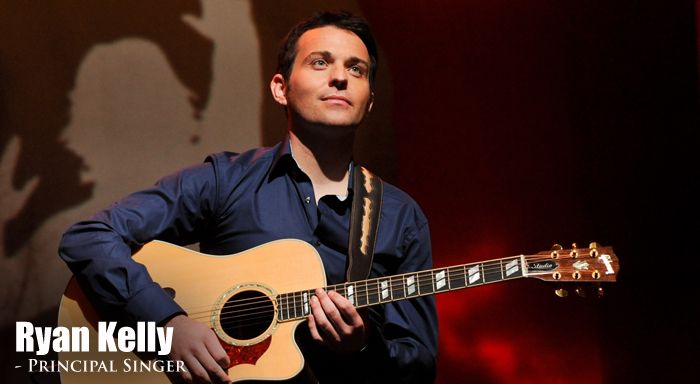 Ryan comes from The Moy in Co. Tyrone in Northern Ireland. Although he studied accountancy at Queens University, Belfast and is a qualified Chartered Accountant by trade, music and theater have always been Ryan's true passion. He first began singing in public at the age of seven and has won many accolades and awards for his performances, including SCOR 2007, a national Irish Singing Competition, and the BBC's Country Cool competition in 2003. In his solo career to date Ryan has performed alongside Westlife, Girls Aloud and Simply Red at the televised "Children In Need" Charity Concert. He also released his solo debut album In Time in October 2010 to great critical acclaim and won an Irish Music Award in the same year. Ryan's love of musical theatre has also led him to perform the lead role in the Willie Russell musical "Blood Brothers" and the role of Judas Iscariot in "Jesus Christ Superstar".

Anyone who knows Ryan knows that he is a fanatical about sports. He has played Gaelic football and basketball at national level and one of the highlights of his Celtic Thunder journey so far was the opportunity to stand in the Bank North Garden in Boston and sing the US National Anthem to open a game for his beloved Celtics. His love of sport is of the things that Ryan's fans enjoy about him. "It's no big secret that I'm a Boston Celtics fan and I'm a big Peyton Manning fan so I was a Colts fan for a long time. I often find that people send me t-shirts and stuff from other teams to try to get me to switch teams. It hasn't quite worked yet. The other lads are always teasing me about getting the best presents. I'm quite happy to keep that title," he laughs.

Ryan's love for drama made him the perfect pick for the role of the "rogue" or "Dark Destroyer" in Celtic Thunder Shows "We had to write a few lines about ourselves and what we'd done. Sharon and Phil had seen that I'd just finished playing Judas in Jesus Christ Superstar and it turns out Phil had produced the first touring Irish production of it." Celtic Thunder's production team was looking for someone who could "sing like they had a mean streak" and when Ryan sang as Judas, it all came together.

The dream of a musical career was always in Ryan's mind, but it was one he never thought would happen. Now he can't imagine anything else. "It's hard to not be in music once you have been," he admits. But if there's one thing he wishes, it was that he had more time to write songs like he did on his 2010 solo album, "In Time". "What I love about songwriting," he says, "is that you have to be truthful about how you feel. On my album, the songs are about heartache and missing people and life not going the way you'd want it to. I've found in the past, when you reflect on things that weren't as good as you'd like, you can often write the best stuff. There's something inside you that inspired you to write about it. That just seems the way it's fallen into place. You can always write better, perform better, sing a song better, if you can relate to it."

Nothing could have prepared Ryan however for the momentum surrounding Celtic Thunder. "It's great fun being the bad guy," said Ryan. "For me, there's no better role, and they've given me great songs to do it with. Besides, thankfully I'm a much better singer than I was an accountant!" In Celtic Thunder's new show MYTHOLOGY, Ryan gets to sink his teeth into the bad guy role once again. His solo performances in the show include the dark ballad The Hunter's Moon, which was written especially for him. He also performs the original track The Thunder Rolls, and the nostalgic Irish folk song Carrickfergus. Ryan also joins with his Celtic Thunder mates to perform the original ensembles Voices and My Land.