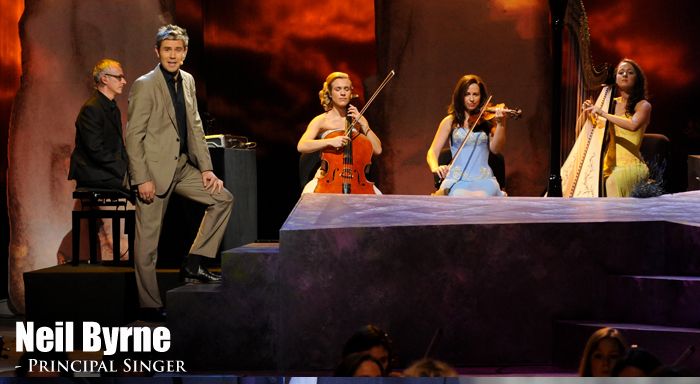 Neil Byrne fell in love with music as a kid when he dragged some suitcases down from the attic and started drumming on them. His destiny was sealed when he was six and watched his father's three-piece band play at a wedding. "The sound just completely blew me away," he recalls. "I didn't really understand what I was listening to but I just understood it was absolutely wonderful." Shortly after Neil swapped his drums for a guitar and then added vocals at the recommendation of his dad. "He told me, 'Listen, if you learn to sing, you'll never go hungry.'" Neil took the advice and started playing professionally with his father's band before branching out into jazz and then forming a retro funk band called Hipple Street that had considerable chart success and performed at O2 in the Park Festival in Dublin to an audience of 100,000 people.

When Neil turned 16 his father retired from his band and the music scene entirely and handed the reigns over to Neil. He was fortunate to be playing (and studying) alongside one of Irelands most renowned jazz bass players, Frank Hess, and Frank began teaching Neil about musical arrangements. A mutual friend invited Neil to play at a function for one of Ireland's most renowned songwriters and producers, Phil Coulter. He began working with Phil and was thrilled when asked to play bass guitar in his backing band.

After working with Phil for a short stint, Neil was asked to record backing vocals for the first Celtic Thunder DVD, "The Show". Neil has been a part of Celtic Thunder since its inception and has toured America, Canada and Australia extensively with the show. He has appeared on every Public Television special that Celtic Thunder has made and is featured on all 9 CDs and DVDs. From starting off as backing vocals, Neil quickly moved to the lead guitar slot and eventually became one of the principals in the show. In 2010, he also released "Sensitive Souls" a solo EP, which Hotpress Magazine says, "shows him as a classy singer of soulful pop," proving that his dad knew what he was talking about.

Neil is a wizard guitar player and his vocal styling lends itself equally well to pop as to Irish ballads and folk music. In Celtic Thunder's latest show MYTHOLOGY Neil's performances run the gamut from Celtic classics Carolina Rua to modern Irish pop Summer In Dublin and Rock 'n Roll Kids (with Ryan Kelly). He also steps up to join the rest of the soloists in the ensemble numbers.